Window Covering Professionals in Lafayette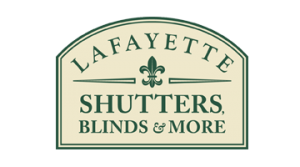 As a locally owned, full-service window covering company, Lafayette Shutters, Blinds and More is the Lafayette shutter company preferred by many businesses and home owners in the southern Lafayette area of Louisiana. Giving you the best options since 1996 in shutters, blinds, shades, window films, draperies, curtains, and hardwood flooring, you'll also have a fun and exceptional shopping experience with first-rate installations.
At Lafayette's Shutters, Blinds and More, we offer quality window coverings for both residential and commercial customers who are interested in our beautiful window treatments and professional services. We specialize in custom orders and custom fitting for your home or business windows and also offer window film and hardwood flooring installations. As Lafayette's premium shutter company, we always provide:
We Can Take Care Of A Wide Variety Of Services Including:
Lafayette Shutters Blinds and More does it all, from your free initial design consultation to final installation. You don't need to do a thing, except call (337) 321-1992 to schedule a free estimate today!
Locations In:
Lafayette
Baton Rouge
Lake Charles
Monroe
If you are looking for a Shutter Company in Lafayette then please call Lafayette Shutters, Blinds and More at 337-321-1992 or complete our online request form.