Quality Hardwood Floors For Your Lafayette Home Or Business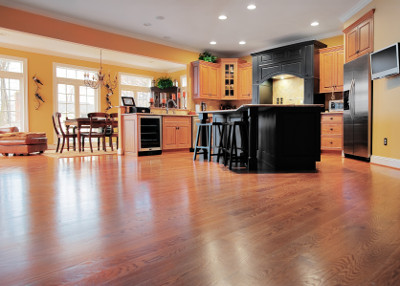 When you're looking for the right hardwood flooring company and you choose Lafayette Shutters, Blinds and More, you'll have the best experience possible for your hardwood floor shopping and installation!
As the top choice Lafayette Shutter Company, we also you the best shopping experience for your hardwood floors. This is because we bring our design room to you with our design consultation that takes all your specifications and needs into account. You'll have a customer service oriented business by your side, helping you make choices perfectly suited for your commercial or residential space.
Plus, you can't surpass the quality of flooring you'll get because we work with some of the best flooring installation experts and quality manufacturers that offer premium flooring options like beautiful hardwoods in maple, oak, cork, bamboo, and more. Whether you're into green options in real hardwoods or you're wanting a composite material that's equally durable and beautiful, let us help you find the hardwood floor for your Lafayette area home or business!
Quality Hardwood Floor Options
Lafayette hardwood floors offer you the most in durability when it comes to your high traffic areas. With the right finish and protection, you'll have floors that can literally last a lifetime when treated right. Whether you're into maple, oak, engineered hardwood, prefinished hardwood, or other options, we have the type, style, and color you're wanting.
Hardwoods Are Perfect For Homes Or Commercial Properties
The wonderful thing about hardwood floors and composite hardwood floors are their durability. Made to last, hardwoods are perfect for luxury homes, condos, commercial office buildings, retail storefronts, hospitals, hotels, banks, universities and government defense facilities. You can count on our expert installation team for your hardwood floors.
Finished Hardwood Floors
Pre-Finished Hardwood Floors – Factory applied finishes are normally what customers choose because this method of floor finishing is easier for many reasons on the customer. Plus, they are incredibly durable and often come with a lifetime warranty.
When you opt for pre-finished flooring, your final cost will be close to or less than in-home finishing. The manufacturer's finish allows for more durability and less time waiting for polyurethane to dry and cure. with in-home finishing, you may end up staying off your flooring for four weeks or so. Pre-finished flooring allows you almost immediate access. The best choice for convenience, our premium hardwoods that are pre-finished are favored by many.
At Lafayette Shutters, Blinds and More, you always have options, so if you're in love with the idea of in-home finishing for your new hardwood floor, never fear that our installation team won't do a wonderful job on your custom flooring.
## Complete, Professional Hardwood Floor Installation ##
Lafayeete Shutters, Blinds and More gives you first rate, quality installations handled by our team of certified and dependable installation contractors. We work with residential homeowners, commercial property owners, property management companies, interior designers, and custom home builders in the Lafayette area. When you need installation for your hardwood floor, you can count on our crew at Lafayette Shutters, Blinds and More.
Recent Articles
4 Benefits Of Custom Wood Shutters For The Exterior Of Your Home

When it comes to high quality exterior shutters for your home, it's tough to find much better than a brand new set of custom wood shutters. Natural wood is a highly sought after material for a number of different surfaces and fixtures around your home, and it is no different when it comes to your…

Read More

Making Roman Shades Work For You

It's true that your window treatments perform a function. In fact, they have several important jobs such as providing privacy, filtering natural light, and even protecting your floors and furnishings from UV rays. That doesn't mean you can't also end up with something that enhances the visual aesthetics. For many homeowners concerned with look and…

Read More

If you are looking for Hardwood Floor services in Lafayette then please call Lafayette Shutters, Blinds and More at 337-321-1992 or complete our online request form.