New Iberia'S SHADE AND WINDOW BLINDS SPECIALISTS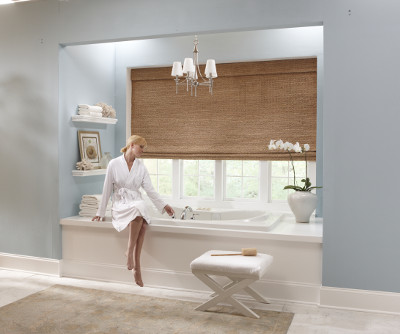 Whether you're interested in blocking out some light to protect furnishings in a direct sunlight window or you're shopping for shutters and New Iberia window blinds for your home just to give it a decorative boost, you have plenty of options available with great energy saving features at Lafayette Shutters, Blinds & More.
As the area's leader in window coverings, we're able to bring our showroom to your home so you have a comfortable atmosphere to view samples. This also is a more effective method of choosing because it allows you to see the choice next to your furnishings and existing decorative elements.
New Iberia Shutters
When you take a look at our New Iberia shutters, you'll find them available in an array of options in materials from real hardwood to faux wood and composites. Quality shutters are long lasting and serve your home well for many years. Composites are wonderful because they can resemble the look of the real material, are sturdy, but significantly less expensive.
Shutters are fixed to the sides of your window frame, so they open and close on a hinge to the side. This makes them still look great even when open because they don't get hidden by rolling up or disappearing under drapes. Solid and steady, our shutters can go with many styles and generally come in wide width slats that go beautiful in just about any setting.
New Iberia Wood Blinds
Wood blinds bring your home a sense of grounded warmth and a feeling of being connected to the natural elements you love. Beautiful and comforting, there not much that can compare to the warm glow of the natural finishes wood brings, which in all makes them a favorite for homeowners and commercial building owners.
Blinds come with a built-in center rod that is attached to the slats, whereas the shutter generally has a cord to control the operation of the blind. When you're thinking about blinds, think of Matchstick Blinds that are woven of a natural component like bamboo or another grass. Wonderfully organic, the Matchstick Blinds bring you close to nature every time you enter the room.
Options In Shades for New Iberia Homes
Shades are great for many applications in window coverings. Black out shades for your New Iberia window coverings let you completely block the sunlight that would otherwise come through your window, which makes them popular for bedrooms for homeowners who need to sleep during the day.
Or you can opt for shades that let in more light but block the sun's harmful and hot UV rays with the cellular shades. These options bring the most in energy saving assistance for your windows where most of your energy is wasted through heat transference. Call our New Iberia Shutter Company today!
We Can Take Care Of A Wide Variety Of Services in New Iberia Including:
If you are looking for quality Shutter Company in New Iberia, please call Lafayette Shutters, Blinds and More at 337-321-1992 for your free design consultation or complete our online request form.