How To Care For Wood Blinds in Lafayette
---
---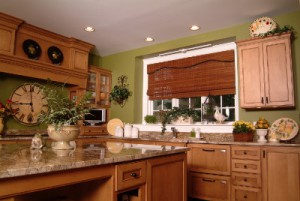 As professional window treatment professionals who provide blind, shade, or shutters cleaning services, we get asked common questions by customers about how to keep their wood blinds or faux wood blinds cleaned in between our professional cleanings.
Blinds made of real wood can be hard to keep clean, especially if you have a lot of unfiltered outdoor air infiltrating your home or building. Using too much water can end up damaging them.
Using a harsh chemical cleanser or soap can damage them as well. Abrasive chemicals do much more harm to wood than good. The chemicals scratch or etch the surface of the Lafayette wooden blinds, which makes them dry out, look cheap, and not worth keeping over time.
Keep Dust Buildup Off Your Curtains, Shutters, Blinds, And Shades
Dust buildup is a problem for your wood blinds. The effect of dust buildup can make your health and way of life change. Allergens form from things in the dust, like toxins that are released from dust mites. People with asthma or other lung problems, like bronchitis or C.O.P.D., are much more at risk for complications with their health due to dust particles.
Getting rid of dust buildup on your window blinds is important, whether they're made of wood or faux wood. While faux wood is easier to care for, it's equally susceptible to dust build up. Even aluminum blinds need to be kept maintained.
The best way you can keep dust from accumulating on your wood or faux wood window blinds is to simply wipe them down using a clean soft sock or cloth. Feathered dust wands can be used, but don't do as much good as a cloth when dust has built up because the build up is stickier and thicker than a feather dust wand can handle.
If water is needed, only use a squeezed out rag or sponge to clean your wood blinds in Lafayette, and stay away from hardware that can get rusted or damaged.
How Often Should I Clean Wood Blinds?
This depends on the home or building and how much dust accumulates in a given week. Generally, a once a week dusting is all that's needed, but you may need to do it more often. For instance, if your building allows weather in through windows and doors and sits next to a busy street or a sandy beach, you'll have more dust carrying air blowing in.
Draperies & Curtain Cleaning
While we're discussing keeping your blinds, shades, or shutters clean, it's also important for you to keep your draperies and softer window treatments dust free.
Whether the drapes or curtains can be laundered or not, they should be thoroughly cleaned regularly. For this, at least every six months should be sufficient, but again it depends on the amount of unfiltered air getting in the space.
It's not easy to keep things like window coverings cleaned when our lives are so busy already. That's why professional window shutter companies like ours here at Lafayette Shutters, Blinds and More offer window covering cleaning services. Our Lafayette Shutter Company will work out the right program for your particular needs to help keep your window coverings cleaned.
If you would like more information on Cleaning Shutters, Blinds, Shades, Drapery, or Curtains in Lafayette, please call Lafayette Shutters, Blinds and More at 337-321-1992 or complete our online request form.