Breaux Bridge WINDOW BLINDS PRODUCTS AND SERVICE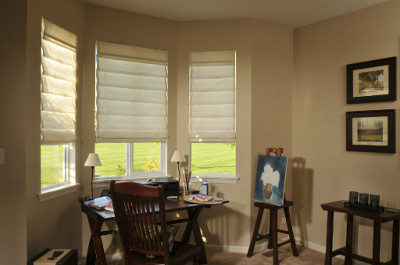 Either your home has bare windows or you're interested in replacing the window coverings or fixing them up with a better window covering than you had before. No matter the reason you're looking at Breaux Bridge window blinds and shutters for your Louisiana home, you'll find beautiful options with our shutters, blinds, shades, and softer window coverings. And, you'll have a completely enjoyable shopping experience from the comfort of your home.
For privacy and light control, there's no better option than our quality blinds and shutters. With options in complete sunlight blocking in our blackout shades to the beauty and charm of real hardwood shutters, we can help you dress your window with style.
Breaux Bridge Shutters
Our Breaux Bridge Shutters are available in many options and materials from real hardwood to composites and faux wood, horizontal slats or vertical, and color. Quality shutters from Lafayette Shutters and Blinds are long lasting and will always serve your home well for years to come.
Composite materials are wonderful because they bring you strength and durability and can resemble the look of the real thing, yet are significantly less costly. Shutters are hung on hinges to the side of the window frame and open to the side. This makes them an elegant choice because their beauty is still visible even when all the way open, not like shades or blinds that open all the way and virtually disappear.
Breaux Bridge Wood Blinds
When you choose real wood blinds for your Breaux Bridge home's windows, you'll love the sense of grounded warmth and charm you feel when you see them dressing your home. There's not much comparison to the natural finishes real hardwoods bring, when is why they're still a favorite for many homeowners and commercial property owners.
With a built-in center rod attached to the slats, the slats are opened and closed easily. Beautiful and comforting, real wood blinds make a great addition to any home no matter the architectural style you're beautiful home already has. We'll help you choose just the right stain or finish for your wood blinds that will make your home unique and one of a kind.
Options In Shades for Breaux Bridge Homes
Shades can completely block out light with the blackout option or only the harmful UV rays with the cellular shade option. But those aren't your only choices. You also have options in a huge variety of materials, colors, patterns, textures, and materials. Shades are hung from the top and operate on a mechanical spring loaded system. As a great option for bedrooms or where you want complete and absolute privacy, the shades are your top choice. Call our Breaux Bridge Shutters Company today!
We Can Take Care Of A Wide Variety Of Services in Breaux Bridge Including:
If you are looking for quality Shutter Company in Breaux Bridge, please call Lafayette Shutters, Blinds and More at 337-321-1992 for your free design consultation or complete our online request form.