Lafayette Home Or Office Draperies And Curtains For Soft Elegance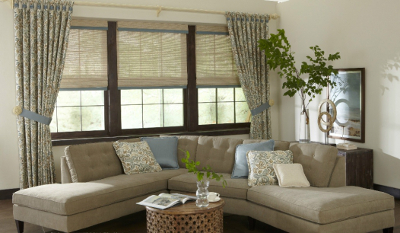 There's nothing like real fabrics to make your home's or office's decor softer. Many times, we forget the softer side of decorating and can use a little bit of the soft touch in our decor. Whether you have a home or a business, the draperies and curtains we have to offer come in so many fabrics, colors, styles, and types that it can get daunting just to make the choices. But with our help, you're sure to find just what you're looking for. As Lafayette's premier shutter company, we also offer you quality options in drapes or curtains, with hardware options, and we'll install them for you with expertise. We specialize in custom fitting and custom ordering of your window coverings, so if you have odd windows, come to
Lafayette Shutters, Blinds and More
and it will all be taken care of for you!
Draperies & Curtains For Your Home Or Business
Whether you own a home, commercial property with offices, or any other space where draperies or curtains would be appropriate, enhance your space with beautiful curtains and draperies from our 
Lafayette Shutter Company
! You can also find beautiful fabric shades that give you pleated, flat, hobbled, knife pleat, casual, Austrian shades, and more options. Extensive selections in fabric offer you innumerable options in style, textures, patterns, and colors.
Functional Draperies Offer You More
There's nothing like a good drapery to add just the right touch to your windows. Drapes can be paired with any other window covering type including curtains, shades, shutters, and blinds. Function is one of the best features of a good window drape. Whether you're needing a little privacy or a lot, drapes in different thicknesses, patterns, and colors allow for the type of privacy your particular window needs. Thermal backed drapes give you the ability to hold back some heat from the hot sun for direct sun windows, giving you more in energy savings. Sizes and lengths vary, so you'll have no problem fitting your windows. Plus, we can custom fit your windows and make custom orders for your drapes.
Expert Drapery And Curtain Installations
As always, our installation team gives you only their best when it comes to installing your drapes or other window treatments. With decades of experience, we custom measure and order your window coverings to fit any type or size of window you have. So if your business has a huge wall of glass in every office that you'd like to cover with some great new
Lafayette drapes or curtains
, we can take great care of your installation.
Why We're Lafayette's Favorite Shutter And Drapery Company
No matter what type of window covering you're looking for, we have it. No matter the size or shape of your windows or glass areas you want covered, we can do it. No matter what needs to be custom ordered, we can get it! And no matter what service we provide you, we do it right the first time! At Lafayette Shutters, Drapes And More, you get quality at every turn, all centered and focused on you -our customer. You'll have first class, full service from beginning to end that starts with a unique shopping experience right in the comfort of your home or business space. For all your window covering needs, come to Lafayette Shutters, Drapes And More!
Recent Articles
If you're ready to see some great options in Draperies And Curtains in Lafayette , please call 337-321-1992 or complete our online request form.