Lafayette Premium Shutters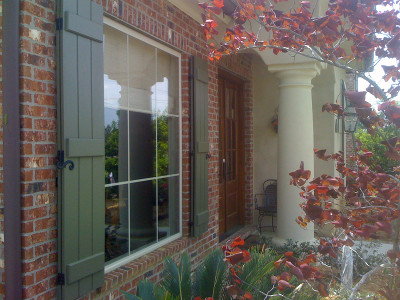 If you are interested in shutters for your Lafayette area home or business, you've come to the right place. Lafayette Shutters, Blinds and More is your Lafayette Shutter Company who specializes in the installation of premium window coverings. We offer you the most in beauty, quality craftsmanship, affordability, and durability.
Our design and installation team is second to none when it comes to perfect fit, style, and first-class customer service, and all our customers have access to these great services as well. No matter the type of window you have on your home or commercial property, we have the right type that's suited for your window shape and style.
For windows with shapes or windows that need shaped our experts at Lafayette Shutters, Blinds and More can conquer countless design challenges. Sliding or French door dilemmas are handled easily with our Bypass or BiFold Overhead tracks or French door option.
Plus, you'll have many Finishing Options to choose from for your new Lafayette premium shutters. We offer over 50 standard colors of stains, paints or washes in a lustrous fine finish. Of course, custom color matching is also available for a truly one of a kind tone or tint. So when you're looking for the right shutters for your windows, count on Lafayette's favorite shutter company!
Storm Shutters
Storm shutters are perfect for our area of the country where we get plenty of hurricane season weather during most of the year. From flash floods to storms with high winds, our storm shutters stand up to the worst nature can throw at them. You have many options in storm shutters, both for interior and exterior use and options for automization that include remote control with internet and Wi-Fi access.
Hurricane Screens
Storm Panels
Fixed Louver Shutter
Board n Batten Shutter
Bahama Shutter
Rolling Shutters
Folding Shutters
Plantation Shutters
If you want classic southern charm while still having gorgeous modern style, then plantation shutters are for you. With a wide variety of materials, styles and colors to choose from, we can help you select the perfect shutters for any room in your Lafayette area home or business.
Custom Plantation Shutters for your commercial or residential windows are available from Lafayette Shutters, Blinds and More. Our plantations shutters come from premium manufacturers:
Woodland Harvest™ Collection by Lafayette
Custom Plantation Shutters with Louver Mover®
Marquis™ Shutters by Lafayette
Norman Shutters
Storm Shutters
Woodland Harvest™ Collection in Lafayette
Woodland Harvest™ Custom Shutters by Lafayette are the essence of adaptable window fashion elegance. Standard performance features include rabbeted stiles to eliminate light gaps, uniform stile width to the room side for balance and rails notched top and bottom for full louver closure either up or down.
There is no such thing as an average window, and that's why all our shutters are custom made to order in five louver widths, horizontal or vertical louvers and in a wide variety of specialty shapes for perfect performance and fit.
Individualize your décor with our elegant Soft Shutter, a beautiful blending of fabric and wood. Choose your fabric from our Select Masterpieces® by Lafayette Collection and any standard or custom color shutter for the best of both worlds.
Custom Plantation Shutters with Louver Mover®
Exclusive to Woodland Harvest™ Custom Shutters is the Louver Mover®, our patented one-touch control system that allows you to move all the louvers in unison without an unsightly tilt rod to obstruct your view. As Lafayette's premier shutter company, you'll get only the best from out team.
Marquis™ Shutters by Lafayette
Marquis shutters are a Make In The USA product offering you an affordable way to bring classic beauty to your home. Lafayette has created something far beyond ordinary vinyl shutters that simply is beyond compare.
New technologies are emerging on the market every day, making materials stronger and more durable than ever before. Turning less durable materials like vinyl into extraordinary materials that outlast and outperform even the best shutters made just a decade or so ago. Think premium when you think of durability and strength, which is what you'll get with the Marquis shutter.
These beautiful and durable shutters are built with a wood composite core and acrylic coating for the ultimate in durability and elegance. Marquis shutters have been tested for heat tolerance, UV stability and color fastness. Easy to operate, this shutter offers 2-1/2″ & 3-1/2″ louvers with a tilt rod or with our patented LouverMover™ one-touch control system. Call and see why Lafayette loves our shutter company, you'll be so glad you did!
Recent Articles
Shutters & Blinds - The Latest Trends in Lafayette, LA

If you are curious about what some of the latest trends are for shutters and blinds, there are some things you should know before including them in your Lafayette home. For one thing, it is not always the best idea to get caught up in style trends when it comes to decisions you make about…

Read More

3 Excellent Benefits Of Natural Wood Blinds

If you are one of the many homeowners out there who are in search of the perfect new window treatments for your home, you certainly have a wide array of different options that you are going to want to consider. With so many different options out there to choose from, it is easy to get…

Read More

If you are looking for a Shutters specialist in Lafayette then please call Lafayette Shutters, Blinds and More at 337-321-1992 or complete our online request form.