Beautiful Lafayette Window Shades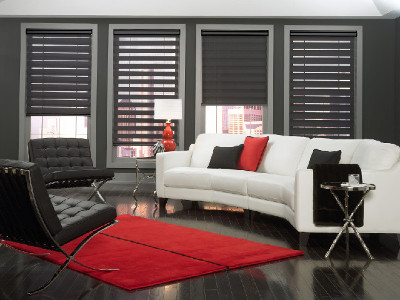 If you're looking for a wonderful set of shades for your commercial property or home windows, you'll love the options you have at Lafayette Shutter Company where getting what you want from a shutter company couldn't be easier! Lafayette Shutters, Blinds and More provide all types of beautiful window shades to dress you windows with along with the best customer service in the area.
From roman shades to roller shades to sun blocking cellular shades, you'll have quality materials and affordable pricing. Plus, you'll get expert design advice and first rate workmanship on installations.
Your home or business is important to you and dressing up your windows can make a huge difference in the aesthetic quality of your space as well as help you with energy transference problems from the heat caused by direct sunlight.
Options For Your Window Shades
When you're thinking about what type of shades you want for your windows, keep in mind that there's no reason to go with just one style. While one area may be better suited for the cellular shades if it's located in direct sunlight, your other windows may need a suitable other style that matches well with it. But that's the type of advice you'll hear from our designers who will sit down with you and find out exactly what you need!
Our Roman shades offer you a looped or flat fabric that when lowered seems flat in appearance. When raised, the fabric gathers and folds into neatly tucked folds.
Woven Shades are made of materials like grasses or faux grasses. These quality shades give you an earthy space that feels comforting and grounded.
Honeycomb or Cellular Shades give you energy transference blockage for windows facing full sunlight or older windows that need help blocking out the heat from the sun.
Roller Shades come in many styles and types and are hung from the top of the window frame via a spring hinged system. Simply pull to open or close.
Natural shades are a beautiful way to bring natures colors and textures into your home or commercial space. With neutral tones, designing with these shades is easy!
Cellular shades are made of woven and non-woven fabrics that are sandwiched together and woven in varying patterns to create shapes that trap air for maximum energy efficiency and sound reduction.
Custom Made To Order Window Coverings
All our window shades in Lafayette can be custom made to order so they perfectly fit your windows or your specification needs. At the time of your design consultation, we'll help you figure out if any of your choices need to be made to order. If you wind up having windows that need custom sizing, we have you covered.
Plus, you'll have the best installation team in town working on your window shades installation! You'll see our quality workmanship at its best when you choose the team at your new favorite local Lafayette shutter company!
Recent Articles
If you are looking for a Shades specialist in Lafayette then please call Lafayette Shutters, Blinds and More at 337-321-1992 or complete our online request form.