Premium Real Wood Blinds From Your Favorite Lafayette Shutter Company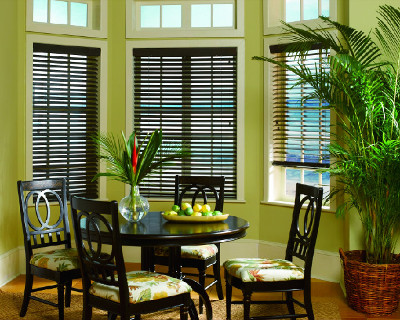 Lafayette Shutters, Blinds & More will soon become your favorite shutter company when you discover how wonderful it is to shop in the comfort of your own home or business. Located in Lafayette, Louisiana, our team of consultants, designers, and installers offer a full line of beautiful real wood blinds for your residential or commercial location.
As Lafayette's local, favorite Lafayette Shutter Company, you'll see why so many love our custom ordering process from your home or business because you get great service along with affordable, quality options for your window coverings.
Experts in the field, we have been providing and installing shutters, blinds and window tinting for more than 15 years in and around the Lafayette, Louisiana area. When you choose us, you'll have plenty of options in real wood window coverings.
Real Wood Blinds For Glowing Beauty That Lasts
The glow and warmth of real wood brings a sense of grounded beauty to your home that's hard to describe. In terms of aesthetics, nothing can compare to the real deal, real wood blinds from your Lafayette Shutter company.
When kept properly finished and sealed, real wood window blinds in Lafayette last for what seems like forever. And with today's technological advancements, manufacturers are able to seal the wood with more advanced methods than ever before. Make real wood your choice for your business or home and you'll find out why so many stick with the real thing when it comes to material choices for window blinds.
Options In Real Wood Blinds
Wood Venetians™ – A myriad of quality features tells the story of Wood Venetians™ by Lafayette. They are crafted with northern basswood slats, a wood species known for its superior performance. Offering a life-time warranty, you can choose any standard color from our Woodland Harvest collection or, for a truly custom finish, we can color match to your unique needs.
Millwoods Wood Venetians™ – For our demanding customers who require authenticity and premium quality, we present Select Millwoods Wood Venetians™. This first class collection on authentic oak, ash, cherry, mahogany or pine 2″ slats can be finished with a clear coat or stained to perfectly match a custom color you require.
Klondike Woods™ by Lafayette – When you're looking for stylish and smart wood blinds, Klondike Woods™ 2″ wood blinds are the answer. Manufactured from the same quality hardwoods as our other natural hardwoods, you get an exceptional hardware system that utilizes a low profile head rail and a host of quality features including incredible value! Klondike Woods™ are available in our best selling colors and wood finishes.
Country Woods® by HunterDouglas – For warmth, durability, and versatility, Country Woods® blinds are the natural choice for almost any décor. Like fine furniture, wood blinds reflect a lasting level of quality and craftsmanship in a superior window covering.
Wood Blinds by "Southland" – Southland Window Fashions manufactures and distributes a multitude of window coverings that will capture every sense of style. With extraordinary detail to craftsmanship, quality and proven customer service, Southland Window Fashions is a step above.
Recent Articles
Shutters & Blinds - The Latest Trends in Lafayette, LA

If you are curious about what some of the latest trends are for shutters and blinds, there are some things you should know before including them in your Lafayette home. For one thing, it is not always the best idea to get caught up in style trends when it comes to decisions you make about…

Read More

3 Excellent Benefits Of Natural Wood Blinds

If you are one of the many homeowners out there who are in search of the perfect new window treatments for your home, you certainly have a wide array of different options that you are going to want to consider. With so many different options out there to choose from, it is easy to get…

Read More

If you are looking for a Wood Blinds specialist in Lafayette then please call Lafayette Shutters, Blinds and More at 337-321-1992 or complete our online request form.